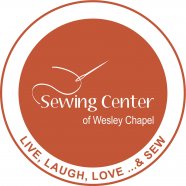 Twice as Nice Mesh Cases - Pickle Pie Machine Embroidery CD
Stitch up these handy cases to hold everything from sewing and craft supplies to gadgets, cords, and more! They feature two zippered pouches, a back pocket, and an optional snap closure. This nifty design is done in two quick hoopings to give you double the storage in your finished case! Two sizes are included in this set...
Design Info:
Small: Hoop size: 5x7, Design size: 4.8" x 6.8" - Finished size is approximately 6" x 8"
Medium: Hoop size: 6x10, Design size: 5.8" x 8.4" - Finished size is approximately 8" x 10"
* Large set is also available for 7x12 and 8x14 hoops!