2.0/75 Twin Embroidery Floriani Chrome Schmetz Needles
Quantity:
Notes:
UPC:
844050094561
Manufacturer #:
9456/2036
Sku:
9456/2036

Add to Cart

or call: (813) 591-1838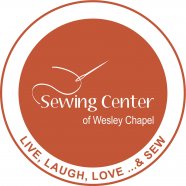 Twin / Double Needles
Twin or Double needles are actually two needles mounted on one shank used to create two rows of stitches simultaneously – Ideal for creating hems and unique topstitching. When using a double needle, two spools of thread will be used in the top of the machine. Pass the thread from each one on a different side of the tension discs and thread into each needle. Only one bobbin thread will be used and the stitches will create a double "web" of stitches on the back of the work. Most Important! – Remember that the needles must t through the hole in the stitch plate – a straight stitch plate cannot be used. Carefully hand turn the needle through the stitch movements before actually trying it on the project to assure that the throat plate opening will accommodate the needle and the design! 1 per pkg.
Embroidery Needles
Use with specialty embroidery threads. The distinct scarf, widened groove & enlarged eye protect fragile threads & guard against excess friction allowing trouble-free embroidery and decorative stitching. The light ball point makes this needle friendly to a large variety of fabrics. 5 per pkg.